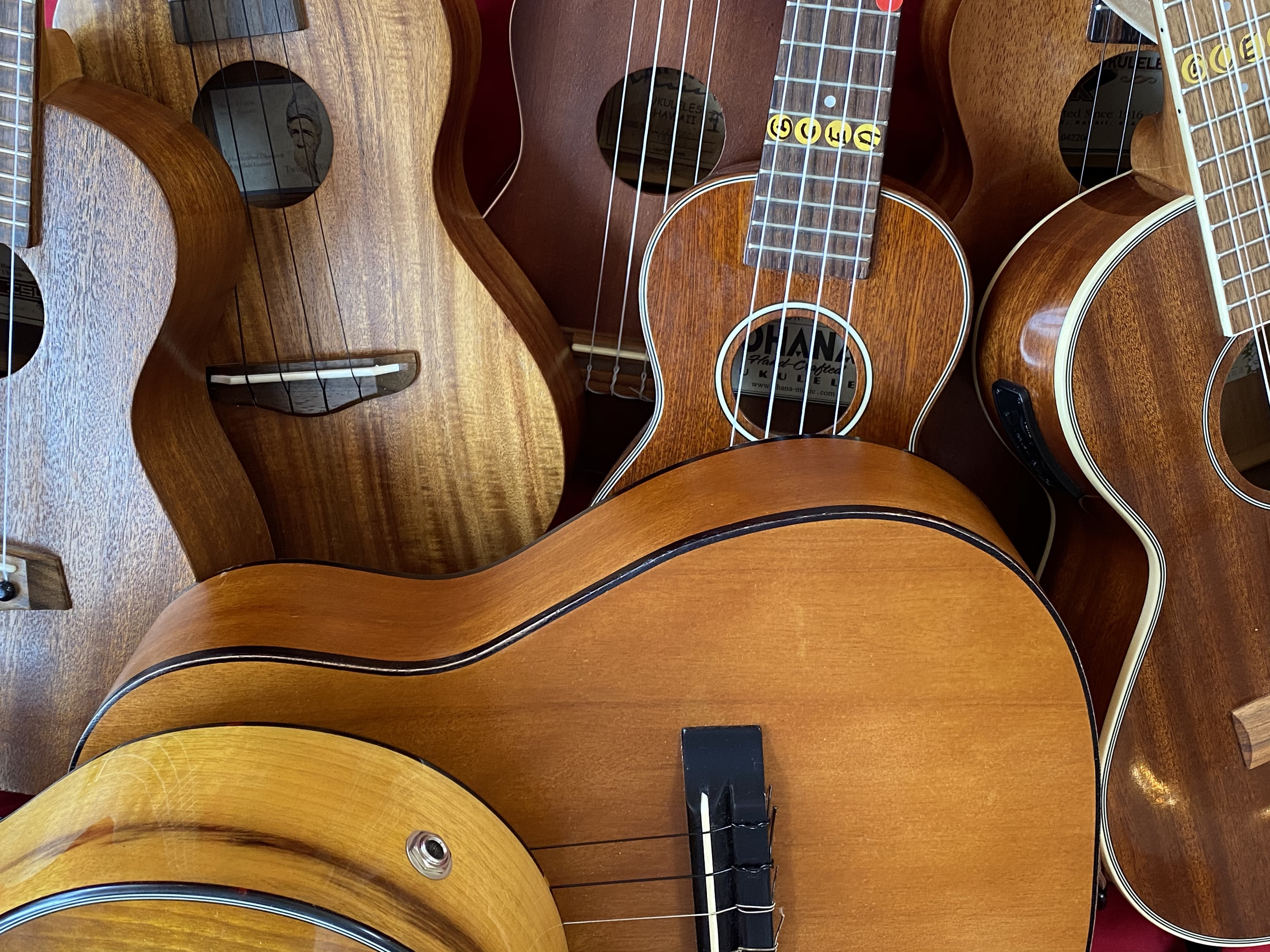 Step One:
Buy or Borrow a Ukulele


Click the photo above for our buying recommendations for Ukuleles and other accessories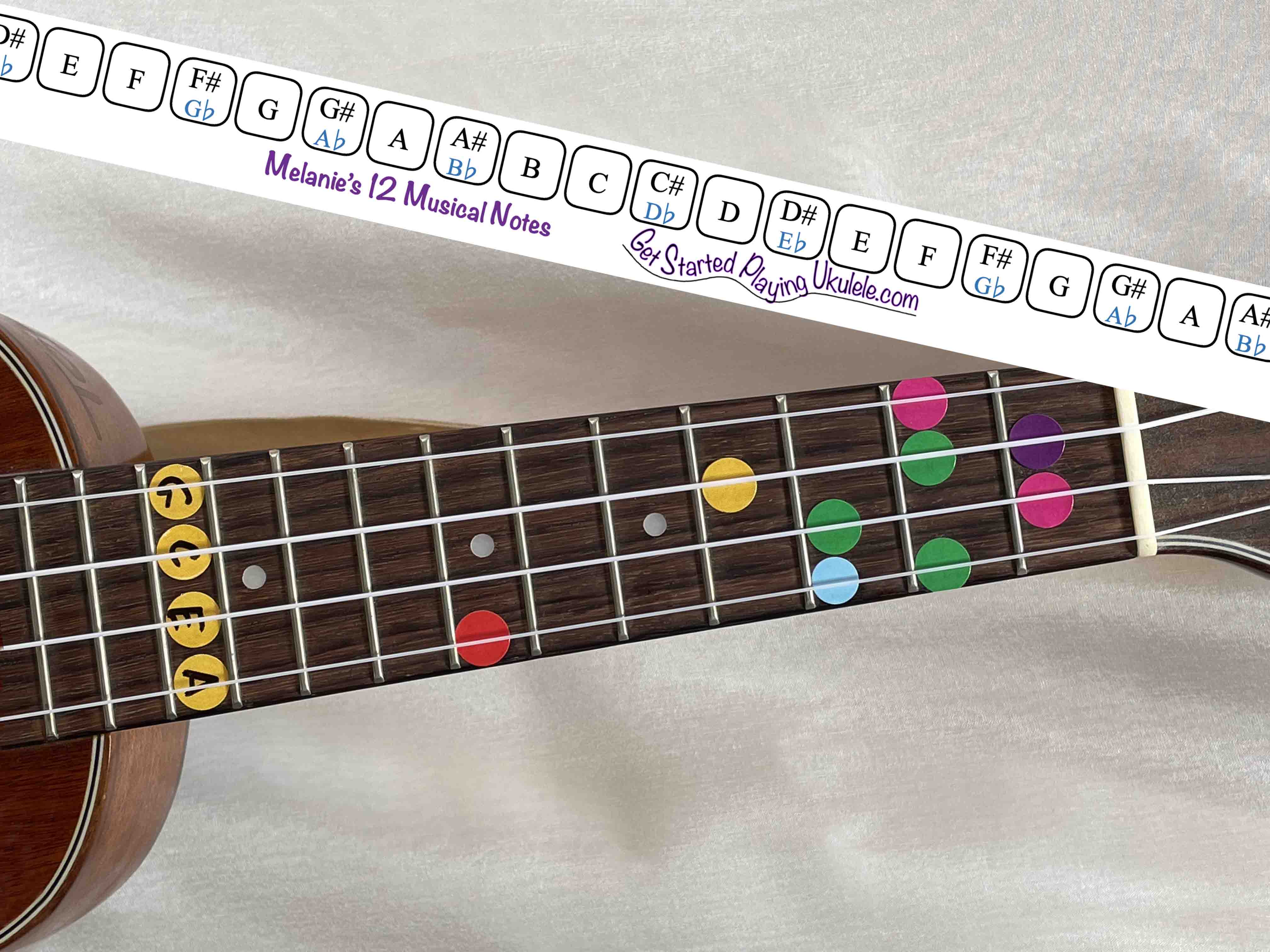 Step Two:
Purchase our Starter Kit

Click on the photo above to purchase our $10 Starter Kit, which includes two sets of ukulele dots, "Melanie's 12 Musical Notes" guide, and other orientation materials to
Get Started Playing ukulele!

Get Started Playing Ukulele
Home of the "Melanie Method"
What is Get Started Playing Ukulele?
• A beginners ukulele class instructed
by Melanie Lawson Kareem.
• A live hour long class on Zoom from 2:00PM-3:00PM (PST)
27 days of the month.
 • It is a yearly rotated curriculum where you learn 50 songs on the Ukulele with 4 songs introduced every month. 
 • There are up to 27 days of classes a month. If you are not able to attend every day, each class is recorded and archived for students to review for practice. This also helps students begin classes at anytime during the curriculum cycle.
• A helpful, upbeat, and user friendly virtual learning experience.


Get Started Playing Ukulele is for you if …
 • You have never played and instrument before. Rank Novices are welcome!
 • You want an easy and fun path to learning an instrument.
 • You're seeking mental exercise and want to learn something new for your brain health.
 • You're a retiree looking for a fun new hobby!
 • You want a new way to share music with your friends and family.
• You want to experience a joyful, supportive class environment.
 • You enjoy classic music from past eras and want to learn how to play your
favorite tunes!
• You want to see an upbeat and joyous music teacher, Melanie Lawson Kareem, every day, from the comfort of home.


About the Instructor:
Melanie Lawson Kareem is the Founder and Creative Director of Get Started Playing Ukulele, an international, supportive, virtual, learning community of good-hearted folks who want to embrace the joy of ukulele NOW. Melanie's proprietary teaching materials and methods simplify and expedite the learning process, because life is short!
Melanie has mastered the role of remote teacher, and has provided ukulele instruction and camaraderie to many over the last few years.
Melanie has taught over 800 virtual classes and counting!
Since 1977, Melanie has been inspired with a life-long passion of inventing the very best systems, techniques and curriculums for teaching folks who want a fun new hobby! Starting as a Dance teacher at a young age, she highly valued musicality and instilled this skill in all her students. Her background in teaching dance has strengthened her ability to teach music in unique and innovative ways. Whether it's music or dance "The Melanie Method" is tried and true with thousands of happy and now masterful students! 


Our Headquarters:
Get Started Playing Ukulele is based in
Topanga Canyon, California, USA. 


A Get Started Playing Ukulele student may be anywhere on the planet, as long as you can click a link and attend a live, virtual daily class at 1:50 pm Pacific Standard Time. In case you miss one, all classes are recorded and archived. 

CONTACT INFO 
Call us: 310-403-3159
Email us:
"Hi Melanie, I have wanted to thank you for quite a while for opening up the world of ukulele to me.  My husband and I spend a lot of time playing folk dance music with him on the mandolin and me on the uke.  It has been a joy.  
Today is my granddog's 1 year birthday--the one that loves the uke.  As a gift to him, my daughter asked that we record some pieces. My husband is playing the melody and I am strumming in the background.  So much fun!"
-Marsha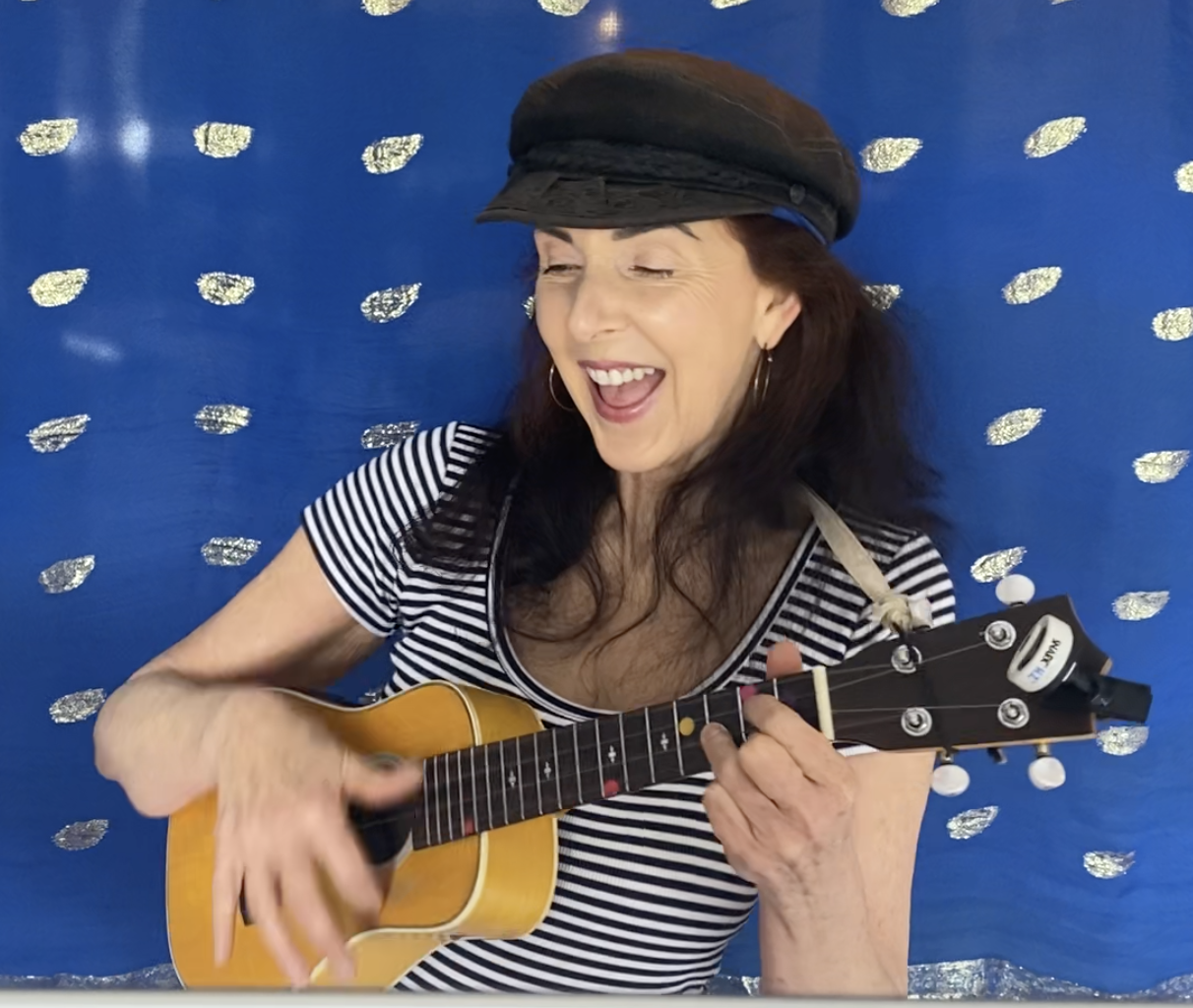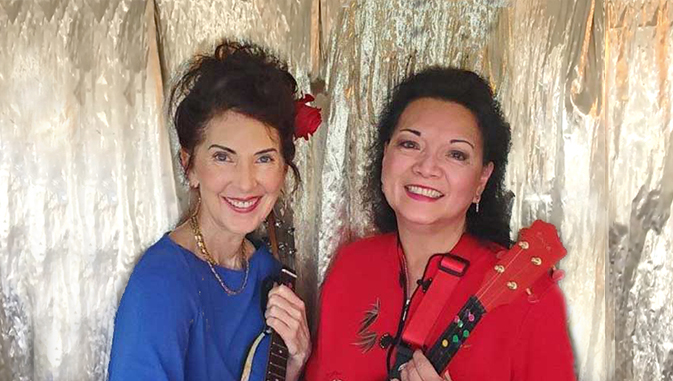 One of the best things I did to cope with the pandemic was to learn to play the ukulele and I could not have a better teacher --
Melanie Kareem
! With daily Zoom sessions and access to archived class recordings, I have learned so much in the past 17 months from this amazing lady with a heart of gold and music in her soul! -Alicia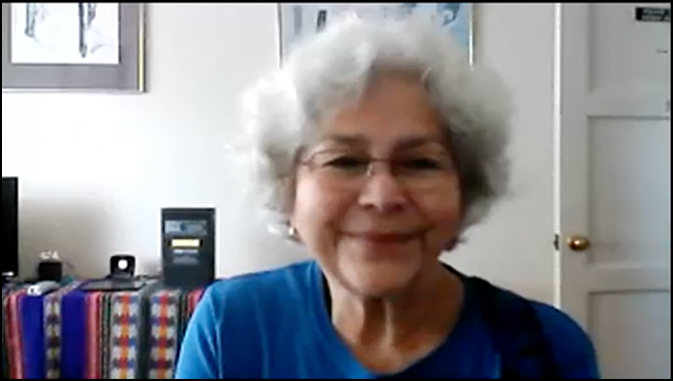 "When I heard that
Melanie
, my dance camp teacher, was offering a package of daily Zoom lessons as a camp donation incentive, how could I NOT join in? I could see some dance friends
and
take a daily lesson. Well, that was in June 2020, and I'm still in the class, playing almost every day.
Music is so uplifting, as is Melanie's cheerful attitude, that going to class is a bright spot in my day!
" - Linda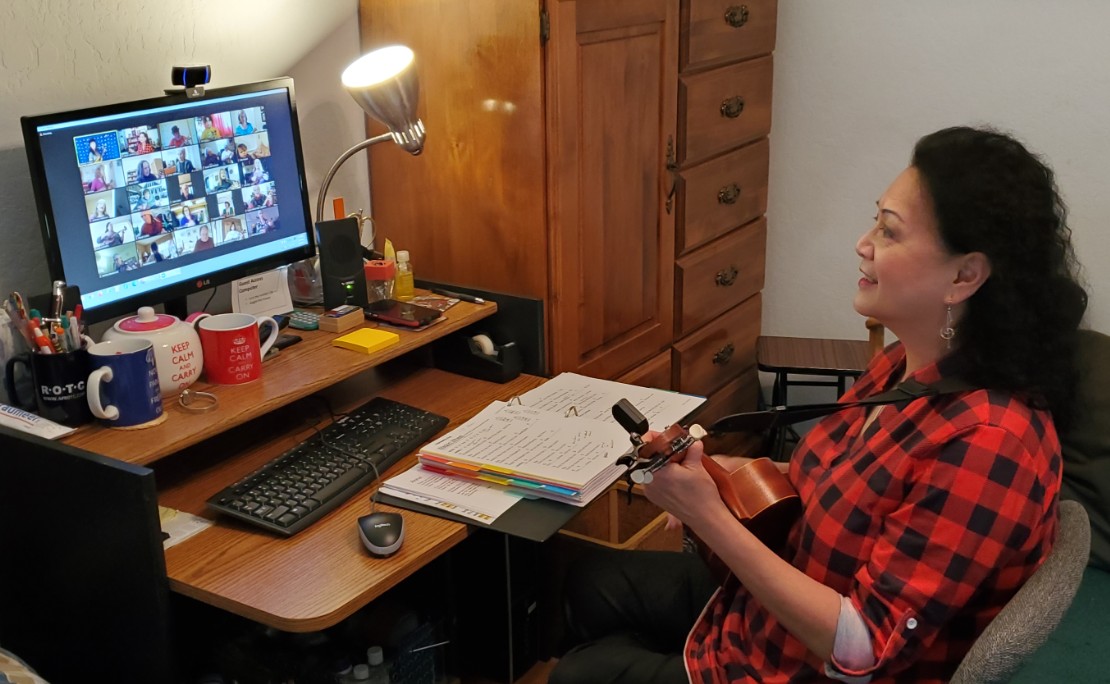 Zoom classes are fun!
We are excited for you to join us!
17 Common Ukulele Chords
You can download this chord chart for FREE from the "Newcomer's Checklist" in the "Starter Kit" Course
These 17 common chords are the basis for the 49 popular songs in my curriculum. These are the chords we will cover in class as you follow along with my program for a year. The dot colors correspond to my dot system and make it so easy to get started playing ukulele.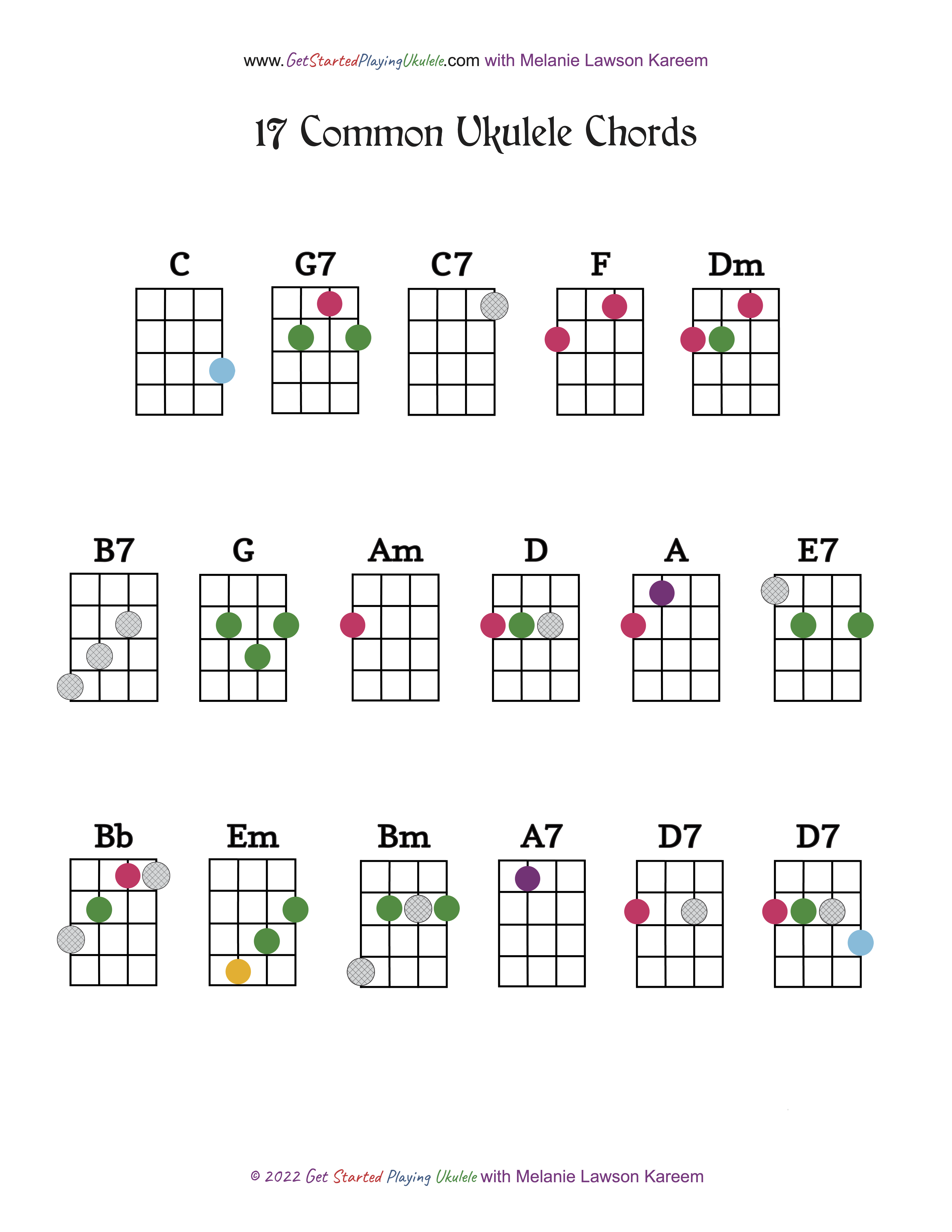 This is a sample of the Get Started Playing Ukulele curriculum
CONTACT INFO 
Call us: 310-403-3159
Email us at: